Los Angeles to San Francisco via the Scenic Route


I'm not saying that the drive up the coast isn't scenic, but I 'd already done that. I just always wanted to see Death Valley, so after having taken care of some business in L.A., and armed with a rental car and a few days to kill, I drove east by myself into the desert. Never mind that it was the middle of August, you have to take advantage of an opportunity when it presents itself.
Just about nightfall, I reached the small town of Shoshone, CA, the last town before the Park entrance. To call Shoshone a small town is an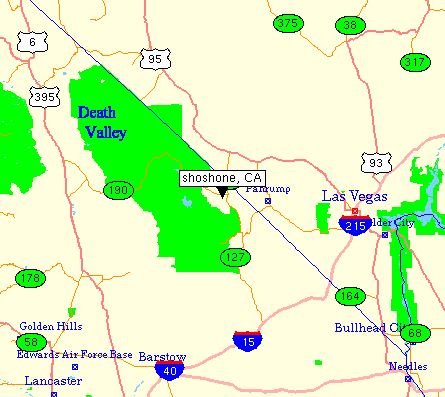 understatement. There is one motel, a gas station, a store, and not much else. The motel proprietor said the place had been really jumping a few weeks back when some geologists stopped by in town. Really. I took a quick dip in the motel pool. At about 8PM the air temperature was still over 90 and the water temperature was even hotter. They told me the pool was fed by a hot spring, as if that were really necessary there.
As luck would have it, the Perseid meteor shower was taking place that night, and it was almost the new moon. I drove out into the desert a couple of miles, pulled off the road, and shut off the car. I stepped out of the car and leaned against it, soaking in the warm night air. At first it was so dark I couldn't see my hand in front of my face. As my eyes adjusted, I began to see stars. Millions of stars. More stars than I ever knew existed.
I also became aware of sounds, rustling sounds, strange animal sounds. It was a little spooky and I began having visions of coyotes, rattlesnakes and scorpions sizing me up for dinner. I grabbed my camera, climbed up onto the roof of the car, laid on my back, and watched the show. It was quite a meteor shower that night, and I even captured a few on film.
They gave me a few good pieces of advice at the motel. First was to get up really early and start into the valley before first light, so as to arrive there just as the sun was rising, and then get out no later than 10AM before it became unbearably hot. Second was to drink lots of water. Real lots. Like over 2 gallons per day. I didn't think I could even drink half that much, but amazingly I did. I was told if you feel thirsty, it's too late, you are already in danger of dehydration. I learned in extreme dry heat you don't even feel yourself sweating, but you notice after a while that your skin gets a little white and gritty. That's the salt from your perspiration.
I heeded their first bit of advice and was up and on the road by 5AM. The temperature at that hour was comfortable but was already rising with the sun. Death Valley has an incredible stark beauty, from the salt flats on Devil's Golf Course, to Badwater, the lowest point in the United States, to Zabriske Point and the colorful, rugged badlands. Of course there was so much to see that I stayed much longer than I should have. By noon (NOON!) I stopped for gas in the park and the temperature was almost 120 degrees! I knew it was hot, but I couldn't believe it was that ridiculously hot, so I took a picture of the thermometer. The car's air conditioning was on max and barely made the interior comfortable.
After that point I only stopped a couple more times to take a quick picture here and there but didn't shut off the car, lest the interior never cool off again. There was a lot more to see, but it finally became almost unbearable to step out of the car, so I decided I had had enough of Death Valley. About this time I saw a sign at the head of a hiking trail which read "Borax Flats 3 miles". I laughed hysterically out loud thinking of attempting to hike out there in that heat and someone finding your bleached bones by the trail. Extreme heat does strange things to the mind. Death Valley is probably a great place to go in the winter. Maybe next time.
I headed up and out of the valley on Route 190 towards Route 395 and then Mono Lake, another place of bizarre beauty. After a quick visit to Mono Lake, it started getting dark. Since my next destination was Yosemite National Park, I doubled back, took a quick peek at Mammoth Mountain ski area and June Lake, and spent the night in a motel near Mammoth, CA. I was totally unprepared for the change in climate. When I went out early the next morning for breakfast, the temperature was around 50 and I was still wearing shorts! Welcome to the mountains. Fortunately I had a sweatshirt with me.
I drove up through the Tioga Pass, the eastern entrance to Yosemite. Tioga Pass is around 10,000 feet in elevation, and just the day before I had been below sea level at Badwater! The contrast in terrain and the difference in elevation in such a short distance was amazing. The eastern part of Yosemite is not crowded and is very beautiful. I spent the day touring as much of Yosemite as I could, and then, after dark, drove the rest of the way to my final destination in Silicon Valley, California. It was a great trip, but not long enough. They never are.